We want to ensure your satisfaction and provide a transparent refund policy. Please read and understand our refund policy outlined below:
All annual subscriptions come with a 14-day money-back guarantee. If you are dissatisfied, cancel and receive a full refund, with no questions asked. To request a full refund, please email avi@dailydoseofds.com.
Monthly subscriptions are not eligible for refunds, unless you encounter any of the following scenarios:
The digital asset you purchased is defective, corrupted, or unusable.
The digital asset received is significantly different from the description provided.
Refund requests must be submitted within 14 days of the purchase date.
To initiate a refund, please contact avi@dailydoseofds.com and provide the following details:
Your name and contact information.
Order number and date of purchase.
Clear explanation of the issue or reason for the refund request [FOR MONTHLY MEMBERS].
Any relevant supporting documentation or evidence [FOR MONTHLY MEMBERS].
Refund Evaluation [FOR MONTHLY MEMBERS]:
Our team will review your refund request and the provided information.
We may request additional details or evidence to assess the validity of the refund request.
Refund Decisions [FOR MONTHLY MEMBERS]:
If your refund request is approved, we will initiate the refund process within 7 days of approval.
Refunds will be issued using the original payment method
Modifications to the Refund Policy:
We reserve the right to modify, change, or update this refund policy at any time without prior notice. Any changes to the refund policy will be effective immediately upon posting the revised version on our platform.
Please note that this refund policy applies solely to digital assets purchased from our platform. For any concerns or inquiries regarding refunds, please contact our customer support at avi@dailydoseofds.com. We appreciate your understanding and cooperation.
Cancellation Policy
If you'd like to cancel a paid subscription to a publication, follow these steps:
Navigate to your Account Settings page at this link: https://www.dailydoseofds.com/account/.
Click on "Cancel Subscription".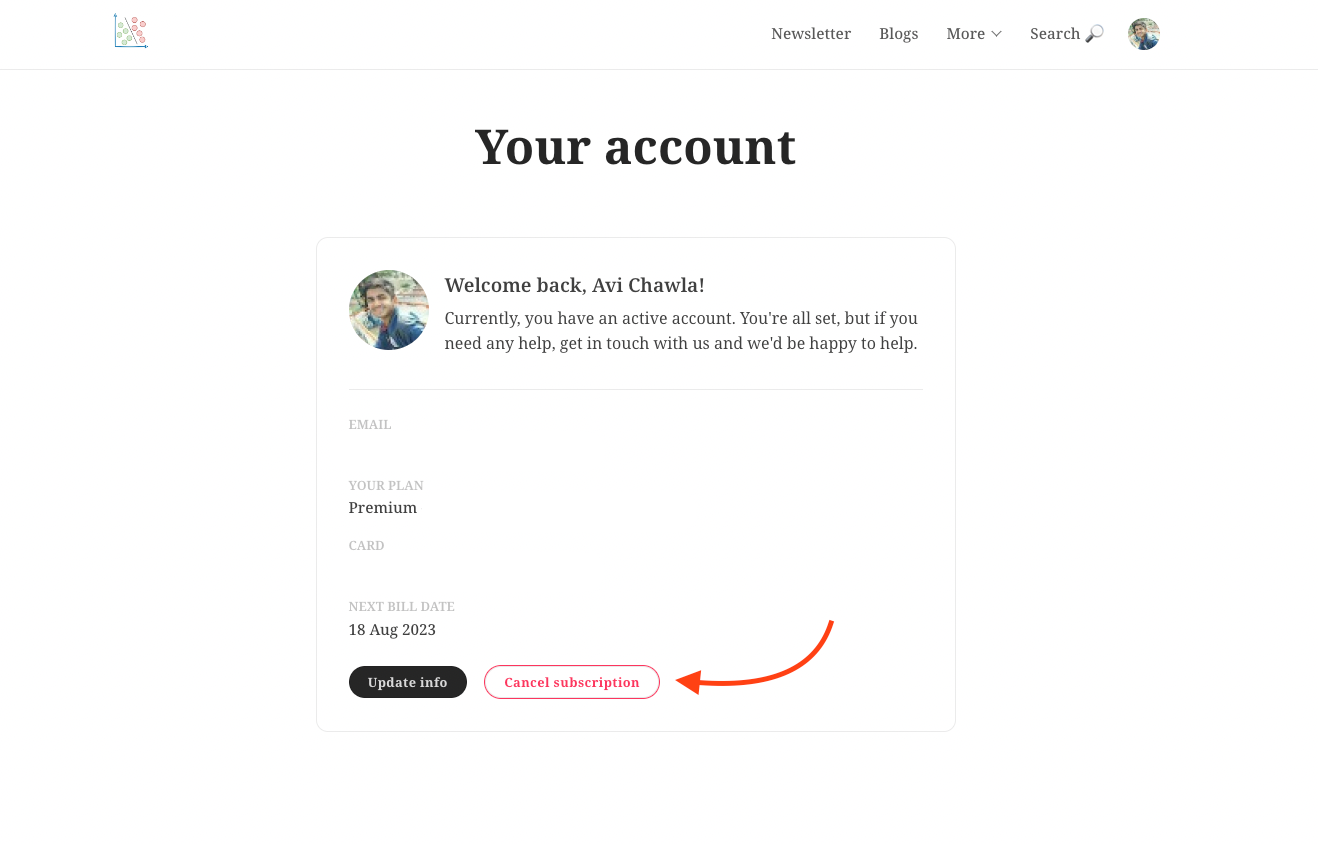 Once you cancel your subscription, it will terminate at the end of the billing period, and you will not be charged again.